Unveiling the Magic of Fall with Mystique of Maine's Full Spectrum Live Resin and More
As the curtain rises on the enchanting season of fall, Mystique of Maine welcomes you to an extraordinary world of cannabis experiences. Our Full Spectrum Live Resin products, crafted with utmost care, are here to add a touch of magic to your autumn adventures. Let's explore the spellbinding products and activities that can make your October truly remarkable.
Indica Infused Cocoa Blunt – Cookies n Chem Live Resin x Cherry GarSeeYa Flower:
The Indica Infused Cocoa Blunt is a spellbinding creation, combining the flavors of chocolate and Cherry GarSeeYa Flower. Crafted with Cookies 'n Chem full spectrum live resin oil, this potent and flavorful preroll adds a new dimension to the world of indicas. As you savor its delightful taste and effects, it's perfect for unwinding after a long day of fall adventures.
Sativa Infused Cocoa Blunt – Moose & Lobsta Live Resin x Amnesia Lemon Flower:
Our Sativa Infused Cocoa Blunt, enriched with Moose & Lobsta full spectrum live resin oil, is a powerful and flavorful preroll with just a hint of chocolate. It's the perfect combination of two great sativa strains, ready to uplift your spirits and infuse your fall adventures with a dash of Maine's magic.
Kief World of Witchcraft (Indica Dominant Hybrid) 1/8th (3.5g) and 1g:
Step into the world of witchcraft with our Kief blend. This magical brew of Jupiter OG, Grape OG, and Warlock kief casts a high that's truly otherworldly. Whether you're venturing into a fall forest or embarking on a cozy night in, this Kief will take you on a mesmerizing journey.
Wicked Ginger New Gummies – Indica and Sativa 100mg 10x10mg Gummies – Entourage Edibles:
Entourage Edibles, our latest creation, brings wickedly flavorful gummies to your fall adventures. With no sugar coating to hide the magic within, these gummies offer the full Entourage Effect. Launch your mystical journey with these 100mg gummies.
Slurricane (Indica) Full Spectrum Live Resin Vape Cartridge:
Crafted from fresh-frozen whole plant material and never cut with unwanted additives, our Slurricane Vape Cartridge is pure live resin. Its powerful effects and delightful flavor profile make it a perfect companion for a scenic drive or an evening of relaxation.
Northern Lilac Diesel (Indica Hybrid) Full Spectrum Live Resin Entourage Vape Cartridge:
This enticing vape cartridge, a blend of Northern Lights and Lilac Diesel, carries the essence of Maine's enchantment. Pure and potent, it's perfect for fall evenings and leisurely outdoor explorations.
Tropicana Tangie (Sativa Dominant-Hybrid) Full Spectrum Live Resin Vape Cartridge:
Embrace the vibrant colors of fall with our Tropicana Tangie Vape Cartridge. This sativa-dominant hybrid, blending Tropicana Cherry and Tangerine Dream, will keep your spirits high and your senses delighted as you embark on autumn adventures.
Here are some tips to help you make the most of your autumn cannabis-infused adventures while embracing responsible consumption:
Know Your Limits: Understand your tolerance level and consume accordingly. Start low and go slow, especially if you're trying a new product or strain.
Stay Hydrated: Autumn air can be dry, so be sure to stay hydrated, especially if you're using cannabis, which can sometimes cause dry mouth.
Plan Ahead: Before heading out on your fall excursions, plan your activities and cannabis use accordingly. Consider the duration and intensity of your adventure and choose products that align with your plans.
Travel Safely: If you're on the move, always designate a sober driver or use public transportation. Safety should always be a top priority.
Respect Nature: While enjoying the outdoors, be a responsible steward of the environment. Leave no trace, respect wildlife, and follow all park regulations.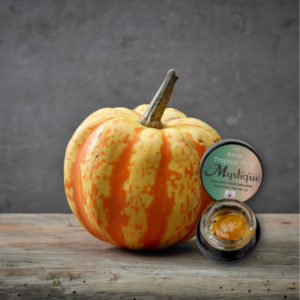 Enjoy in Comfort: Ensure you have a safe and comfortable environment to enjoy your cannabis products. Whether it's a cozy cabin, a picnic blanket, or a campfire circle, create a setting that enhances your overall experience.
Mindful Socializing: If you're consuming cannabis in a social setting, communicate openly with friends about boundaries and individual preferences. Encourage responsible consumption among your group.
Carry Essentials: Be prepared with essentials like water, snacks, and any necessary gear for your activities. It's all part of ensuring a positive experience.
At Mystique of Maine, we're dedicated to providing you with top-quality cannabis products that can enhance your fall adventures, whether you're seeking relaxation, inspiration, or connection with nature. However, we also want to emphasize the importance of responsible consumption to ensure that your experiences are not only enjoyable but safe and memorable.
So, as you embrace the beauty and wonder of autumn in Maine, keep these tips in mind, consume responsibly, and savor each moment of your adventure. Your well-being and happiness are at the heart of our mission. Happy adventuring, and may your fall season be filled with warmth, laughter, and unforgettable memories!
Note: Cannabis consumption laws vary by location. Make sure to comply with local regulations and consume responsibly.