Mystique of Maine Offers the Best of Maine Cannabis
Full Spectrum Live Resin Entourage Edibles, Concentrates, Vape Cartridges, and a wide selection of Flower & PreRolls.
Industry Leading Products from
Mystique of Maine
The truth is out – Cannabis is a much safer and healthier alternative to alcohol, opioids, and nicotine.  It's fun and safe to enjoy responsibly, and we at Mystique of Maine offer you a wide range of products and flavors to help you enjoy Cannabis your way.   We've invested heavily and cultivating, producing, and selling the finest edibles, concentrates, vape cartridges, and flower, so you can enjoy the Mystique of Maine.
Potent and Flavorful Flower
Mystique of Maine is determined to show every cannabis user the way nature intended it to be enjoyed. We cultivate our own plants with insanely aromatic terpenes carefully combined to create the highest quality extracts & edibles in the state. Whether you dab it, eat it, vape it, or smoke it, you'll love the full spectrum of terpenes, flavonoids, and cannabinoids we offer in all of our products.
Clean, Precise, Potent Concentrates
Many of our customers enjoy the pleasant high that comes Full Spectrum Live Resin Edibles, Concentrates, and Vape Carts. At Mystique of Maine, we pride ourselves on producing the cleanest possible concentrates, live resin carts and edibles. We don't color remediate, which means the flavonoids and terpenes aren't altered or destroyed.  Our products are made from the The Plant, The Whole Plant, and Nothing But The Plant!  We cultivate the highest quality cannabis plants, and all of our products contain only our plant material. Our Full Spectrum Live Resin starts when we freeze the whole plant immediately upon harvest in order to capture and retain the full spectrum of natural terpenes, flavonoids, and cannabinoids enabling you to enjoy the full entourage effect. We want you to experience the best Mother Nature has to offer. We want you to experience the Mystique of Maine.
Wellness With Cannabis
We want to reach as many cannabis users as possible in Maine. Our cannabis stores for recreational products aid us in this mission, but to amplify our reach we are proud to offer Mystique of Maine cannabis for wholesale! Our team is easy to connect with, and handles every interaction with transparency and respect. Join us in our mission to improve the daily lives of Mainers through cannabis!
Showing You We Care
The name behind a product is just as important as the product itself. The passion and integrity behind everything we produce is unmatched, resulting in top of the line quality. Our customers share in our love for the plant, and we appreciate that beyond words. We've worked hard to get here, come learn about how we started and how we give back to our customers every day with our generous loyalty program!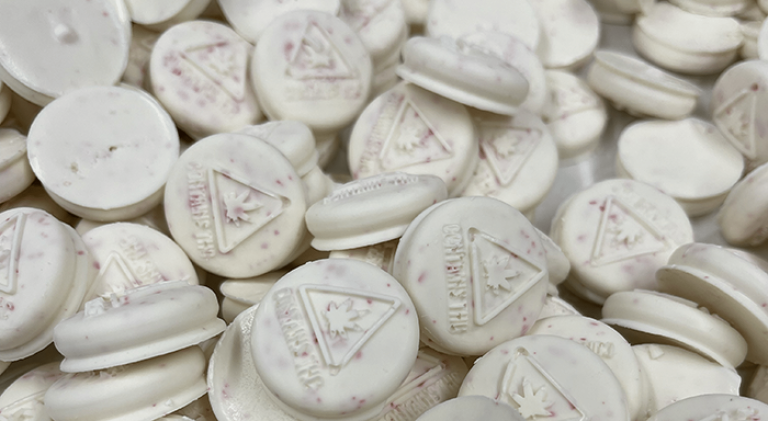 Delicious Treats With No Tricks
There are different desserts for every season, but they should all be infused with Full Spectrum Live Resin Cannabis Oil! Enjoy a Strawberry or Blue Raspberry Gummy in Sativa Lift, a Peppermint button in Happy Hybrid, or a Chocolate Peanut Butter button in Indica Chill.  Following tried and true methods, our Entourage Edibles at Mystique of Maine taste like real candy with cannabis rather than the chemical undertone you typically find. All of our Edibles are available in Sativa Lift, Happy Hybrid, and Indica Chill, so you can choose the high that fits the situation.  Enter tranquility while satisfying your sweet tooth.
We're Only a Phone Call Away
Everyone learns new things every day, and the cannabis industry is certainly no exception. We understand you may have questions about our products or when you can come check them out for yourself. We've done our best to provide you with the basics, and now invite you to our contact page to connect with us or to get an address for your GPS! We look forward to meeting you soon!